Magneto-Electrochemistry
At the Chair of Analytical Chemistry II, we investigate the various interactions between magnetic fields and electrochemical reactions. The superposition of an external magnetic field influences various parameters of an electrochemical reaction and can significantly change its properties and course. We are currently investigating the causes of this and the resulting possibilities, for example, for the production of functional, structured surfaces or for electrocatalysis.
Magnetic Field Controlled Electrodeposition
By applying an external magnetic field during the electrochemical deposition of metals, the mass transport of the metal ions to the electrode surface can be influenced in such a way that structures are deposited on the electrode surface that vary in their spatial or structural composition. Thus, the use of structured magnetic fields enables the deposition of structures in the millimeter and micrometer range without the need to incorporate a physical template into the often corrosive electrolyte solution.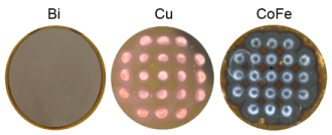 Template-controlled electrodeposition
By selective electrochemical oxidation of aluminium, highly symmetrical honeycomb-like aluminium oxide structures (AAO) with pores in the nanometer range can be synthesised. With the help of electrochemical deposition, the pores produced in this way can be filled with various metals, which leads to nanowire and nanotube arrays after selective dissolution of the aluminium oxide matrix.
The nanostructures produced in this way have great potential for possible applications in catalysis and for the development of high-tech devices. Furthermore, the unique magnetic properties of nanostructures offer the possibility to explore new magnetoelectrochemical applications and effects.

Quantitative analysis and numerical simulation
With the help of finite element simulations, magnetoelectrochemical effects can be predicted and graphically visualised. The behaviour of materials and structures under the influence of magnetic fields is modelled and can thus be used to better understand experimentally observed results. In addition, theoretical simulations can be used to better understand magnetoelectrochemical effects and, on the basis of the mechanisms of action obtained, to design experiments in such a way that the desired functionality of a material can be specifically adjusted, e.g. by chemical and physical structuring of the surface.